Another Thanksgiving Day has been added to our memories! Thanks to the Lord 🙂
I will not write about the usual rutinary 'What Am I Thankful For' theme. Of course, that does not mean I am not thankful, because I am. I am thankful for God's patience with me, my family, friends and church family whom I love deeply. But I'll write about something a little different. My brother gave me this idea, and I thought it was great. So let's take a look at people from the Bible who were great examples in the theme of Thanksgiving.
#6 JONAH
So you might be wondering what is Jonah doing here. We usually do no associate the word 'thankfull' with him—at all. Instead, other words come to mind, such as #1 Fearful Prophet who needed anger management therapy. Anyways, we tend to think that Jonah deserved to get sucked up by that whale because he tried to run away from God; but have you read the prayer he offered while in the belly of the whale?
Jonah 2: 9-10 "But I will sacrifice unto thee with the voice of thanksgiving; I will pay that that I have vowed. Salvation is of the Lord. And the Lord spake unto the fish, and it vomited out Jonah upon the dry land."
Just think of it…being in the belly of a huge whale…I would surely be so thankful to God if I did not end up getting digested.
#5 MOSES
Have you ever been so thankful, that you were inspired to write a song at the moment, and the words and music just came to you without even trying hard?
Well, it happened to Moses after God's great deliverance at the Red Sea. And the song is one that expresses profound gratitude.
Exodus 15: 4-6 "Pharaoh's chariots and his host hath he cast into the sea: his chosen captains also are drowned in the Red sea. The depths have covered them: they sank into the bottom as a stone. Thy right hand, O Lord, is become glorious in power: thy right hand, OLord, hath dashed in pieces the enemy."
#4 FATHER OF THE PRODIGAL SON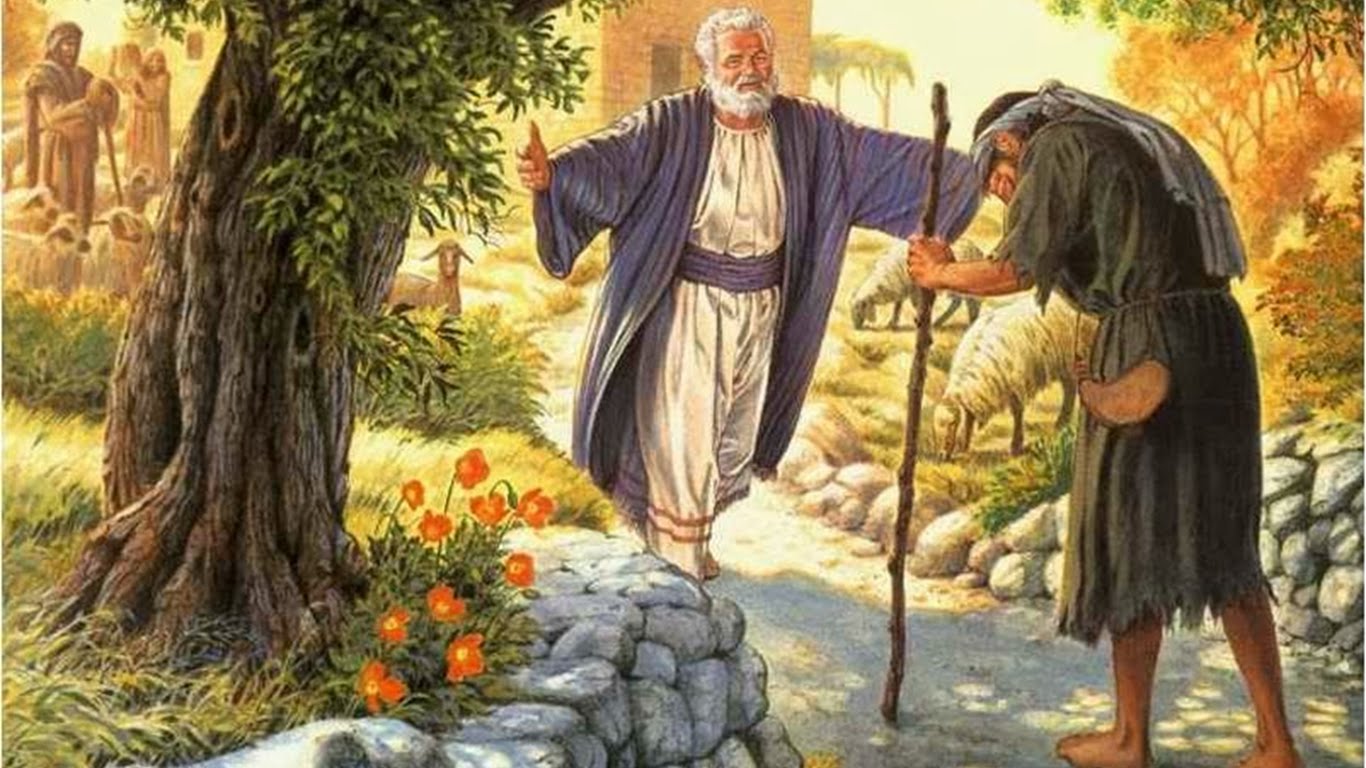 So the parable is of a son who demands his father to give him his share of his inheritance. He goes and wastes it and when he is broke, he returns to his father. He is dirty, and smelly—and yet his father is thankful and overjoyed to see him, that he does not care about how he is or how bad he smells, but plants a great big kiss on his cheek.
It's interesting to note this:
Who does the prodigal son represent? Yes, you and me.
Who does the father of the prodigal represent? God, right?
So…can we imply or assume that God is the most thankful person on earth??
I'm sure you and me can both agree that God has many reasons NOT to be grateful for, such as our evil and unruly behavior towards Him. BUT we can see from this parable, that God is truly thankful to see His stray children come back to Him.
#3 MARY THE MOTHER OF JESUS
A virgin pregnancy.
I put myself in her place, and I get scared. Mary was engaged to be married to Joseph, and then she was going to tell him that she had not been with no man, but that she was pregnant? Imagine her sadness when Joseph decided to leave her!
In Luke 1:38, Mary did not seem to be "thankful", per say. All she said was, "Behold the handmaid of the Lord; be it unto me according to thy word." But later on in the same chapter, we also see that she is so thankful, as she speaks these words: "My soul doth magnify the Lord, And my spirit hath rejoiced in God my Saviour. For he hath regarded the low estate of his handmaiden: for, behold, from henceforth all generations shall call me blessed."
Imagine having the privilege of being the mother of Jesus! What an honor!
#2 HANNAH
I cannot think of a most thankful act, than that of a person who promises to give her son to the Lord.
When little Samuel was weaned, he was taken to the tabernacle to live there and work for in the Lord's cause.
1 Samuel 2:19 "Moreover his mother made him a little coat, and brought it to him from year to year, when she came up with her husband to offer the yearly sacrifice."
Can you imagine seeing your little boy only once a year?
Would we all be like Hannah—that when we see all that the Lord has done for us this past year, we can give Him our heart.
#1 JOB
How can you be thankful and bless God when your loved ones are dead, and everything you have–including your health–is taken from you in one single day?
This happened to Job, and yet he never cursed God.
He said this instead: "…the Lord gave, and the Lord hath taken away; blessed be the name of the Lord."
You know, things will not always be smooth and nice for us. Bad times will come; but when they do, may you and I have that strong trust in God that no matter what comes our way, we will still be able to give thanks and smile through our tears.
1 Thessalonians 5:18 "In every thing give thanks: for this is the will of God in Christ Jesus concerning you."